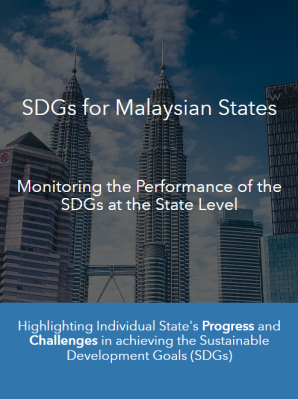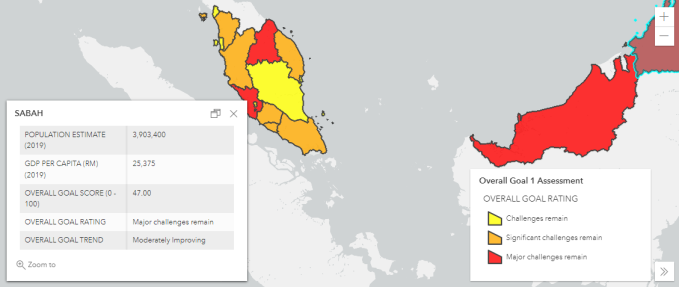 SDGs for Malaysian States Explore the SDG Dashboard
The interactive SDG Dashboard provides a visual representation of countries' performance by SDG to identify priorities for action.
SDG Dashboard
SDGs for Malaysian States is an interactive platform that assess SDG performance of 16 states and Federal Territories of Malaysia throughout the 17 Sustainable Development Goals. This website leveraged the methodology and performance thresholds used in the Sustainable Development Report produced by SDG index.
This website highlights insightful findings about state level SDG performance. At the overview level, Federal Territories of Malaysia (Kuala Lumpur, Putrajaya and Labuan) have the best SDG performance in the country while Kelantan on other hand have the lowest SDG performance. This is not surprising as the ranking of these states and territories for SDG performance closely relates to economic development status. However, SDG performance ranking has shown that states like Negeri Sembilan, Pahang and Sarawak have better SDG scores compared to advanced states of Selangor, Pulau Pinang and Johor. This highlights an important fact that having a high GDP does not mean better SDG performance. The second major insight is SDG performance closely relates to financial capacity to deliver necessary services. Irrespective of economic development of the states, Malaysian states score highly for SDG 3 (Good Health and Well-Being) and SDG 4 (Quality Education) as health and education services are delivered by federal government. However, Malaysian states and territories perform poorly for SDG 11 (Sustainable Cities and Communities), SDG 14 (Life Below Water) and SDG 15 (Life on Land) where the responsibility of service delivery is done by state (underfunded) and federal (well-funded) governments.
Except for SDG 6 and 7, Malaysian States face many challenges as of now when they are rated for their SDG performance. This includes basic SDG indicators such prevalence of poverty using national poverty lines and advance indicators such as government revenue as a share of GDP. The website also highlights the need for clearly defined national thresholds for the SDG indicators. The lack of sufficient nationally appropriate thresholds compelled the producer of the website to benchmark Malaysian states to international standards instead.
In summary, SDGs for Malaysian states has exposed the great need for fiscal expansion for certain government tiers to ensure all Malaysian states and territories can attain the SDGs by 2030. This project also calls upon policymakers and academics to define nationally appropriate thresholds for SDGs for better SDG measurements to be made.
Acknowledgements
The SDG Assessment for the State Level for Malaysia is built on the hard work of the core team of Jeffrey Sachs Center on Sustainable Development (Sunway University) working on this project, experts (from Jeffrey Sachs Center on Sustainable Development, Sustainable Development Solutions Network (SDSN) Malaysia and external consultants), United Nations Sustainable Development Solutions Network (Paris) and other individuals from Sunway University.