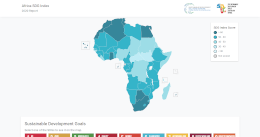 2020 Africa SDG Index and Dashboards Report Interactive Dashboard
The interactive dashboard provides a visual representation of countries' performance by SDGs to identify priorities for action.
Executive Summary
The 2020 Africa SDG Index and Dashboards Report provides an assessment of where African countries stand with respect to the SDGs and their progress toward the goals, with the additional lens of "leave no one behind." The report also includes a preliminary analysis of the impact of COVID‑19 on the SDGs in Africa.
The global pandemic is a humanitarian and economic crisis with serious immediate and also potentially long-term impacts, particularly on the social and economic goals. An additional 60 million Africans could be pushed into poverty and food insecurity is expected to nearly double. An estimated 110 million African children and youth are out of school, fragile health care systems are being tested, and women are at risk of being left out even more. Slow economic activity and lockdowns will increase unemployment and debt, while decreasing remittances, development assistance and domestic revenue are added risks to financing for development and SDGs.
To rebuild, all countries should adopt the framework of sustainability. African governments are relatively well positioned to do so, as our updated implementation survey reveals. African governments have made significant efforts to endorse the SDGs and incorporate them into national strategies and development plans. The large majority of countries have identified government units to coordinate the implementation and have prioritized specific targets and indicators. Communication and information-sharing for stakeholder engagement is insufficient, but it has improved since the previous survey. All 34 country experts who validated results reported that lack of funding and resources is one of the most important challenges both in terms of SDG implementation and monitoring.
The analysis in terms of the current status and trends toward achieving the SDGs is comprehensive and comparable
at the continental and subregional levels. Some key findings include:
Overall, North Africa is the best-performing region on average, while Central Africa is the worst-performing. Tunisia has replaced Mauritius as the top-ranking country.
Serious challenges exist and the majority of countries are currently performing very poorly. As in last year's report, no country scored green for 13 of the 17 goals. The Leave No One Behind (LNOB) results show that all African countries are currently struggling to tackle all kinds of inequalities.
The goals facing the greatest challenges are SDG 3 (good health and wellbeing), SDG 9 (infrastructure), and SDG 16 (peace, justice and strong institutions). The goals where the continent is performing better are SDG 13 (climate action) and SDG 12 (responsible consumption and production).
Across all countries and goals, the most frequently-observed trends are stagnation and moderate improvement, which is a positive development as compared to the 2019 analysis which was overwhelmingly stagnant. The only goal for which the majority of African countries are on track is SDG 13 on Climate Action.
Authors
Ambrose Rwaheru Aheisibwe, Eve de la Mothe Karoubi, Olive Dushime, Grayson Fuller, Enock Nyorekwa Twinoburyo, and Abigail Simkoko. Belay Begashaw and Guido Schmidt-Traub supervised the project.
Citation
The Sustainable Development Goals Center for Africa and Sustainable Development Solutions Network (2020): Africa SDG Index and Dashboards Report 2020. Kigali and New York: SDG Center for Africa and Sustainable Development Solutions Network.