A Message from UN Secretary-General Ban Ki-moon
A message from UN Secretary-General Ban Ki-moon was presented at the SDG Index launch event by Mr. Thomas Gass, UN Assistant Secretary-General for Policy Coordination and Inter-Agency Affairs.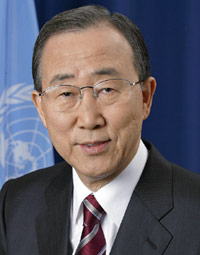 I am pleased to convey my best wishes to the launch of the SDG Index and Dashboards Report by the Sustainable Development Solutions Network and Bertelsmann Stiftung.
This is a crucially important time in humankind's quest for peace and prosperity on a healthy planet. Last year's agreement by the General Assembly on the 17 transformative Sustainable Development Goals brought the leaders of the world together with representatives of civil society, the private sector, academia and other partners to chart a truly sustainable path towards a future of dignity for all.The centrepiece of this effort is to leave no one behind. We now have to translate that vision into tangible, positive change.
Yesterday, at the High-level Political Forum, I launched my annual report on the SDGs – the official, authoritative United Nations monitoring report on progress towards the goals.
Sound data must be at the core of our efforts. There are no short cuts. It will be important to assist countries to build national information systems and architectures, so that they can plan effectively at both the local and national levels. Stronger national capacities will also enable countries to contribute more reliable information to the regional and global measurement of gains and gaps alike.
I am confident that the report launched today by SDSN and Bertelsmann Stiftung will add value to this important and inclusive process as we work together to put the world on a more peaceful, just and sustainable path.
Ban Ki-moon, Secretary-General of the United Nations